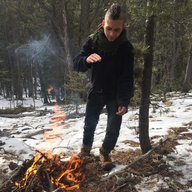 Joined

Mar 12, 2018
Messages

15
Current Location
Hello my cousins!
I'd like to make my current mission public, in hopes of recruiting others who would like to be involved with it.
So over the past few years I've workstayed on a few different farms learning some of the ways of permaculture forest gardening,
traditional row farming, and urban gardening. I have also had the opportunity of learning to supplement ones diet with common wild edibles.
I have practiced a bit of wilderness survival and homesteading and I am definitely looking to expand my knowledge in those fields.
So I just acquired a Ford e-250 cargo van that I will be building out with my Pops in May, then I'll be meeting up with some friends at ELFfest in Southern Indiana and from there we will be travelling to Oregon. I have acquired enough heirloom seeds to plant enough food for a well rounded diet for probably 3-5 people for a year and I am looking for farms, BLM Lands, and unused community garden spaces that my friends and I will be able to travel to easily (probably Southern Oregon, closer to the coast) to plant these seeds. I would like to help preserve these non-gmo and organic heirloom crops, and would be happy to trade some of the food in exchange for growing space. We would make it to Oregon probably in June is my guess, so we would be able to plant some late season crops provided we have the space to do it. Anyone know of any spaces we could make use of? I also plan on getting in contact with Indigenous tribes of the Pacific Northwest and hopefully learning what native wild plants they used to sustain themselves throughout their history, as they will hold better experiential knowledge of which plants work more symbiotically with the Cascadian environment. In any case if you or anyone you know may be interested in this mission of putting food and medicines more in the hands of the people again while working to restore forest environments please let me know! I'm looking to unify as many of us on this mission as possible so that we may support each other in these revolutionary times! It should also be known that we are quite spiritual and also accept the possibility of traveling to other realms, be it through trance meditation or physical journey through "X-points" as NASA calls them. Either way, If you are also spiritual/magickal in nature and/or are some form of magickal creature that has incarnated as a human and you are looking to go "home," you are more than welcome to travel with us as we follow the electromagnetic fields of the Earth and the Sun to find these portals to go back to our home realities/dimensions. Either way, don't be scared off by the more whimsical beliefs, If you are looking to increase access to a sustainable future for the inhabitants of this world, please reach out to me. Looking forward to talking with you!