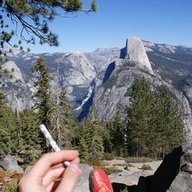 Joined

Apr 13, 2017
Messages

43
Location
I just finished my first bicycle tour on a folder, and there's no going back.
My traveling life first began when I took off summer to ride 3,800 miles from the Atlantic to the Pacific. I got to see the country. Urban. Rural. I saw the endless farms with GMO corn. I passed farmworkers in full biohazard bodysuits applying chemicals to experimental, patented food prototypes. I passed so many factory farms that I learned to smell the difference between pig, chicken, and cow manure.
I lived in a tent, showered under hoses, and wandered freely. I became addicted.
The next summer I rode cross country again--4,300 miles in the North US.
Since then, I've done more international traveling. And because my touring bike takes me ~2 hours and two huge boxes to pack, I left it at home in the States.
Well, I just rode from Key West to Atlanta on a Brompton, and it was amazing because:
It takes me <60 seconds to fold this thing down to basically a 2ft cube. It's so small that if fits in the overhead compartment on an airplane (carry-on!).
The hight between the rack and the saddle is the same height as a ~60L backpack, so no more lugging around panniers & easy-ish transition between "walking mode" and "cycling mode"
Hitch-hiking is practical.
Taking any bus/train/etc is practical.
When I want to go into a store, it takes me ~5 minutes to lock-up the bike & remove the pack from the bike, and shoulder the backpack. And I have both my hands available.
When I want to setup camp, I can bike around until I find a nice spot (read: walking 5km with a pack on your back to find that hidden spot can be painful and take forever. riding 5km with no weight on your back is fast & fun), then I just lockup my bike, shoulder my pack, and walk deep enough into the woods that I have privacy (it's hard to walk very far when you're carrying 4x bulky panniers!).
I highly, highly recommend this mode of travel.
Last edited: