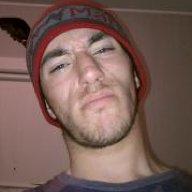 Joined

Mar 7, 2010
Messages

105
Reaction score

81
Homebase
So I'm young and single with 10x the sexdrive of a normal human being (I fuck on either side of the fence, depends on what day you catch me). I'm just kinda wondering, is there a solid lot of girls out there who would be chill with dating or hooking up with a traveler? I've been operating out of a base camp in my home state for now, ski instructing and now farmworking a solid base of "land cash", my low-ball fallback fund. Because of this, I haven't had much chance to try my game out on the road, I've just been with local girls.
I only ask because a great deal of the girls I know wouldn't look twice at a hobo. I mean, I look more like a cowboy than a hobo, but still, it's something for concern. As I move from taking short "jaunt trips" across state and into national/international travel, I want to be damn sure I can get laid where ever I'm at.
Are there actual female travelers out there? Not to get all idealist/romantic on ya, but my dream is to find some wild road woman. (Sex on a train sounds impossibly great)

I wasn't concerned until I read Tom Kromer's "Waiting for Nothing", he paints such a lonely picture of the life of the peripatetic.