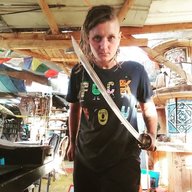 Joined

Sep 25, 2015
Messages

328
Hometown
So, you've found yourself in the wilderness in an extreme climate. It's EXTREMELY hot, or cold, or rainy, or swampy, or dry... What are some ways that you keep yourself not only alive by meeting your basic needs, but also be comfortable as you can be (besides climbing into the nearest place with climate control)?

I live in the Sonoran Desert currently, and have been living here outdoors for nearly two solid years in a place that is dry, and half the year, it's between 90-125 degrees (sometimes higher). I have a limited supply of solar power, I haul in my own water/pay others to haul it in, and when I run out of that, I filter water from a nearby canal but I am also interested in methods of collecting water from the air/ground/plants.

Some of the methods I use for cooling include evaporative cooling- I use a wet sarong over my head as a personal cooling method, I direct air-flow with my living structure to create a natural fan, and spread the shade structure out over a wide distance to allow the air to cool more before it hits me.

I've also lived out of my van/outdoors in Minnesota, where it gets pretty damn cold!