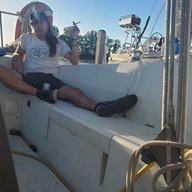 Joined

Nov 5, 2014
Messages

74
Age

29
Location
Website
I recently found out after 6 years of hopping trains I dont know anything about hopping trains. It started after i recorded my demo with my new band in new
mexico
. I heard wind of a train hoppers alley cat in chicago of which i was very interested. I thought it would be a simple trans-con stint a kin to my multiple cross country hops.
Im in the yard at belen as I was just 3 weeks before this time, swarmed by mosquitos from the recent rainstorms. Two or three trains every couple hours, the one I needed rolled up at around 2am. After watching the thousand mile inspection finish up I mosey on over and climb aboard the miniwell that fit me clean face, and my bike dirty, so well.
"Get your stuff and get off the train" said a bnsf bull as i had hardly made the throat of the clovis yard. I get pulled, same old story except this guy puts me in handcuffs and interrogates me about a small bnsf offense 5 years prior. He lets me go but only after informing me that he lost the handcuff key and that "i was lucky he found the spare". I ride my bike to the ebd hopout, threw up a moniker next to my two previous ones and get on the next IM that fit my ID.
I woke up 120 miles east of Amarillo on dallas bound trackage. I could have caught from Dallas to Chicago but, I thought hitching to Amarillo and catching on the trans-con would be faster. I get off and ride my bike probably 4 hours and camp at a scenic pull-off. Morning comes and i start my trek again. A trucker pulls off and offers a ride to downtown amarillo, i graciously accepted. I make my way to the hopout and grab some beer, train food, and smokes from that weird empty corner store by the hopout. I catch a moniker and the next train that matched my ID.
Train stops I wake up outside of downtown Tulsa, I'm on the frisco line bound for Memphis. I thought i would stop again in Tulsa so I stayed on. Hours later I rolled through Tulsa and the crew decided to stop right on the Oklahoma/Missouri border. I'm completely out of water and my phones dead, I see a small church across from me and decide to go beg for my needs. I knock, an old lady shows up and tells me where the spigot is and points at the outdoor power outlet. I sit and browse my phone as i watch my train, four cop cars come racing into the parking lot. "Put your hands in the air and walk slowly towards me, I fucking said slowly" says the main macho gun wielding meat head. Handcuffs again but this time guns drawn, I watch my train pull away. Turns out the old lady thought I was trying to rob the place. Now, I get it face tattoos and small towns dont mix well but if I was gonna rob you I wouldnt beg kindly for water and electricity first. Cops drive me to Oklahoma and decide I'm Oklahoma's problem now.
I have some friends in tulsa that came and picked me up. We had a good day or two hanging out and talking about grindcore (if you're in tulsa theres a fancy pizza spot that will give you a free 30$ pizza if you follow them on instagram). I decided to hitch to kcmo to once again catch a train on the trans-con line. All in all straight forward hitch, except the one who broke down 20 minutes from argentine yard.
I rode my bike and ran into a lady at the dollar store by argentine yard that had to hug me cause of my free spirit, she was over the top nice and bought my next set of train food. I get kicked out of the dollar store parking lot for whatever reason so I rode over to the hopout. Cops! Like 3 cop cars right in front of the hopout. It was simply a car accident and they didnt notice me slip past to wait at the ebd argentine hopout. My train pulls up very shortly after my arrival, someone told me the c-c's for my specific train were about 30min. They were wrong, I'm scoping the train up and down when it airs up and I'm about a football feild away from the only ride I seen. I run like hell to catch it on the fly i hook my drop bars on the side and grab the ladder. Everything going smooth and then my bike drops, sucked under the car for me to look on in total dismay. "Clunk-clunk clunk-clunk" each set of wheels rings out as I watch my freshly rebuilt bianchi get destroyed. I retreat with the carcass of the bike I loved and stash it for a future rebuild. The next train comes and i go with it.
I finally made it to chicago with no further problems. I got a new bike at the squat i stayed in and I had a blast at the alley cat. When i hoped back west I stopped In kansas city and rebuilt my bianchi with the track bike I got from the squat. All in all I had fun but I realised as much as I thought I knew about trains, I can always know more. I took some wrong turns, and I lost some important time and possessions but i walked away humbled. I may never know exactly how trains work and I think thats what I need to remember on the rails, mistakes are half the fun(frustration).