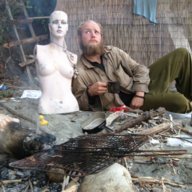 Joined

Apr 13, 2014
Messages

280
Location
Website
So this goes for relationships as well as any other human connection. I never find myself missing someone. Thinking about people on and off yes, but I always find it awkward when people I am pretty close to when i'm more or less around them tells me they miss me. I'm quite truthful back and just explain how I don't miss people. I think one thing I really love about traveling is that i'm always alone. Figuratively and literally. Just this little dirty ghost driftin' on through.

Makes any relationshippy sort of things with women hard, though. I can enjoy being around someone, and look forward to it, but when i'm away from them i'm so perfectly content that not seeing them for long periods of time is perfectly fine.

To be fair, I do miss animals.

Curious how you other travelers and miscreants are like with this.