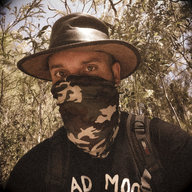 Joined

Mar 5, 2017
Messages

213
Reaction score

366
Age

30
Homebase
Website
Had a quick look and couldn't find any recent threads, sorry if this has already been discussed.
Have any non-US Citizens crossed the boarding recently (bonus points if you crossed from Eastern BC into WA)?
I've been hearing some pretty crazy stories about people being denied entry, and even barred from entering in the future, over some very trivial things. I'm an anxious person at the best of times, and I feel like I'm overstressing about this. I've been to America a fair few times before with no issue (always via airports in the past), have a six month B1 tourist visa and always make sure I look out at boarders.
I fit plenty of criteria that would make it likely they question me a bit (solo male traveler, long hair, beard, older car, no fixed address).
Two main worries cross my mind -
1. Being asked about drug use. Apparently people are being asked if they smoke weed...and have been barred all future entry for admitting to it or denied entry for opting not to answer. I'm not a big smoker, but I do have my medicinal card here. So it seems like you either have to hope they don't ask or hope you're not caught lying. Between pending legalisation in
Canada
and prior legalisation in WA/numerous other states I find this fucking absurd.
2. Having my phone searched. There is nothing too sketchy on their, but a lot of things I'd rather prying eyes don't see (as well as affiliations with groups that are against my home government as well as the US government). Every article I read seems to have a different idea of the search powers they have.
So, yeah, has anyone had to deal with the above or have any advice?
Anxiety and paranoia is just in my nature, so I stress hard about things like this when, really, ignoring point 1 above there is no reasonable thing that would stop my entry.
Cheers