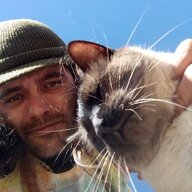 Joined

Mar 22, 2017
Threads

10
Messages

127
Likes

108
Age

28
Current Location
Hey guys Road flower here posting for a friend, Rachel who is stuck in Cheyenne Wyoming looking to get to the national rainbow gathering.
She has a converted school bus that is currently Not quite road worthy in Cheyenne Wyoming, but she's looking to get to the gathering. she has very few resources where she's at and asked me to post this post on the rideshare.
I am in constant communication with Rachel via phone and anybody willing to give her a ride should contact me and I will contact her and we will be able to exchange phone numbers I will give her your phone number and she will contact you. We will try and make this a speedy and smooth as possible. Thank you.

A little about Rachel she is 34 years of age, Been Familey for half her life. She is trying to get to seed camp and will be staying for clean up as well. Rachel is 420 friendly she's a jack of all trades piano teacher , organic gardener ,glassblower and she loves all things nature and travel... she's been to 28 countries, she's drama and drug-free just trying to get home safe to see some Family. she has gas money to pitch. Rachel traveling by yourself with one backpack. Rachel would also like to thank everybody who took the time to read this post sincerely.
Last edited: