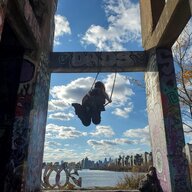 Joined

Aug 24, 2017
Messages

388
Reaction score

2,806
Homebase
Yesterday afternoon I hopped outta Waycross after a night of being housed up with some of the most hospitable people I've ever met.
They had a little 4 year old that took a special interest in cow (my rat), helped me feed her, and even gifted her a stuffed animal. Supposedly she doesn't take to new people but she sure was excited to spend time with me n cow.
After being given a place to sleep, a kitchen to cook in, being left alone in their house when everyone went to work the next day. "Honey, I ain't worried about it. What are you gonna steal in your
backpack
? A frying pan? We leave our things unlocked so come n go as you please. And if anyone takes anything then they must need it." While I've always admired that mentality (it must be a more peaceful existence), I can't say I've ever felt that way about getting my shit stolen.
There's a bunch of rain all over AL and TN for the next couple days, so I bought a tarp from Walmart, a gallon of water, and headed to the hop out.
The way I've entered this wooded area before currently had CSX work trucks all around it. Hoping they didn't see my clearly-not-a-homebum sized pack, I made my way to the other side. Once I found my coast to be as clear as it was gonna get, I got low and ran into the woods. My pack and ukulele neck pulled all kinds of vines n branches with me but I made it in and waited for my train to Nashville to arrive.
A couple hours and many nervous pees later (I really think I must have peed about 6 times in there), my train rolls up. Now, where I'm hiding n trying to get on is only about the length of 5 or so train cars long. And naturally, the ones that stopped infront of me were empty wells and viking ships! The kicker is that juuust where people on the road below can see, there's a 53 well with a container n I can see from under the front that it isn't suicide! So I'm weighing my options "do I just run for it and get on? What if it's full of brakes? Should I just catch the train tomorrow? Can I hop this on the fly?" ... So, I went with waiting for the train to start rolling. *Tssssssssssssss* As soon as I heard the brakes, I put my pack back on and stood up, ready to catch on the fly for the first time.
*crrreeeeeeeeeeeek* And it started rolling, I waited until the end of my car was about 10 feet past the opening people on the road could see, scaled some reasonably steep ballast, grabbed on and pulled my 50 lb pack, my gallon, cow in her carrier, and myself onto the train. I hopped in, shoved my pack as far as I could under the grate, and assumed the fetal position bc that's the only amount of room I had among all the brake parts.
We rolled around the curve of the junction... And then stopped. I'd heard of someone recently getting pulled off in Waycross and that the bull ain't friendly so I laid there in the least comfortable position man has ever known, shins pressed into steel beams, the corner of my right shoe just short of penetrating my ass, head wrapped under my hood.
Minutes later I hear cars, or at least one, approaching on the next track over. It was those little vehicles workers drive when doing construction on the rails. One passed, his glass door being the only barrier between us. Then another. And another. And another. And fuck dude another, another, another. All of them going slow as molasses. One stops right next to my car and I'm positive I'm getting pulled off. How can he not see my knees sticking up, my pack sticking out, and cow's bright blue carrier? We sit there for a few minutes where each second felt like a year. Then he rolls away... A few minutes later we roll away too.
So I crawl out from the grate and try to get more comfortable. I smell an odor that specifically made me think "smells like a pet store". I peeked into the cubby hole at the end of my well to find a dead bird. Two of my favorite
hobbies
, trains and dead things, came together in that smelly moment. But then I realized as beautiful as this little red bird was that I did not wanna smell that for the next ~28 hours.
Very very shortly after that we sided out again, woods on each side of the double tracks. Now was my chance to find a better ride. I hopped off and started running the train as far as I felt comfortable going from my gear/cow. The only good ride was the well behind mine, a jb hunt 53. So I grabbed my shit and rehomed in a much less invasive well, set up my tarp to be ready for rain, n got snuggled in.
At other sidings n crossings I've seen more workers building tracks so be careful if you're coming thru Waycross any time soon.
Hopping in the fly was wild and I heavily discourage anyone who doesn't consider themself strong to try it. Pulling myself up with my pack on wasn't easy and I can lift my pack over my head, so I'm deceitfully strong for my size. The train picked up speed fairly quickly and had I hesitated even a couple seconds longer, idk if I would've been able to do it.
Be safe folks.