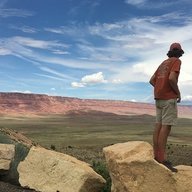 Joined

May 9, 2016
Messages

130
Reaction score

307
Homebase
I got this idea I'm super excited about... so hear me out and feel free to destroy me if the idea is terrible.

I'm thinking train hop and hitch up to Minnesota or wherever one of the tributaries of the Mississippi starts from. Should be cake, just rail tramping with my pack, nothing new.

Get to said spot (not sure where would be a good starting point?) and acquire some sort of raft. Kayak? Canoe? Small sailboat? I dont really know which would be the best option, so I'd love some feedback on that. I dont really know much about sailing...yet.

theres no rapids or anything along the river that would be a significant obstacle. I could stop in port towns to restock supplies or work for some cash or whatever then head out again.

Could take it all the way to the gulf...

How crazy is this plan or does anybody have any experience with this??
Last edited: