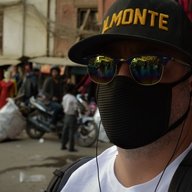 Joined

Jan 4, 2009
Messages

1,621
Location
Video in link..What do you think?
http://www.wpxi.com/news/south-side...panhandling-hurts-their-bottom-line/375048914
PITTSBURGH —
Business owners tell Channel 11 News that aggressive panhandling is an issue year-round on Pittsburgh's South Side, but it becomes worse in the summer because of train hoppers. They said the problem isn't that they're asking for handouts, but the way they go about it.
Channel 11's Renee Kaminski
found a few dozen people who hop on trains across the country and ride from city to city, panhandling and lounging on sidewalks along East Carson Street.
While some on South Side said the train hoppers don't bother them, others, especially business owners, call them vagrants and want them to leave.
"This is my third summer here on the South Side, and it's definitely the worst ever," Scott Johnson, the owner of Three Rivers Vintage, said.
Johnson told Kaminski that he's lost customers because of the aggressive panhandling.
"As somebody walks by, they will walk right behind them, asking them for money, as opposed to saying, 'Hey, give me a quarter,'" Johnson said. "They will get up and follow them."
Some residents told Kaminski that the train hoppers are committing thefts, assaults and worse, and they're getting away with it.
One train hopper agreed that some are committing crimes, showing Kaminski a wound that he suffered during a recent assault.
"He picked up a hatchet and knocked me in the back of the head with it. That didn't knock me out, but the bricks knocked me out," he said.
Pittsburgh police are wrestling with how to crack down on aggressive panhandlers. A Pittsburgh police spokeswoman said the city is reviewing Pittsburgh's panhandling ordinance to determine when and how to enforce the law.
She said the bottom line is that holding a sign is OK, but following someone and demanding money is not.
© 2016 Cox Media Group.