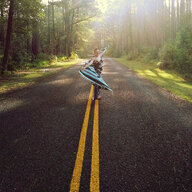 Joined

Dec 24, 2021
Messages

17
Reaction score

47
My mom called and said she's worried about me being manic, flights of fancy and all that. I had a whole trip planned out but she said a $40 motel doesn't sound safe.
I am bipolar, mental health is really important to me (I have a mental health first aid certification! but it's hard to do first aid on yourself...)

I think I am being maybe like 20% reckless tho, not 70% or whatever. I have like $800 saved up, which is pretty good savings considering that I have a new job I'm going to in a week. ~$200 for a motel, $300 for a flight, I have food stamps for food so I certainly won't starve. I can busk for some coffee money if I really need it.

My mom & dad both think I should try to hold down a 9-5 and get an apartment. I really, really don't want an apartment. I want to find a middle ground, someone to talk to that understands the need to wander but be safe doing so... All my friends say I should get a "normal" job and go on a vacation once a year, which just sounds so lifesucking.