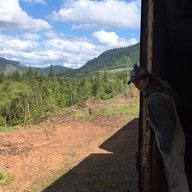 Joined

Jan 17, 2016
Messages

162
Age

24
Location
It's been a good little while since I've been on here. Mostly because I have an iPhone 4 and this website doesn't work well with this my phone I use or wifi.

Anyways, I've got 5,000+ miles in. I don't use money usually. The clothes I got I either got out of thrift store dumpsters or thrift stores or military surplus stores, or found them on the ground. It's snowed on me, it's rained, it's hailed I've seen 110 degrees and I've seen 18 degrees (in the day time)

I woke up one day and I was submerged in water, it had been raining and i was right in a creek bed. I woke up another time and my sleeping bag was frozen.

People have given me money out of no where. Every time it happens, it's usually 3 times in one day, I've never only gotten one kick in one day. Then ill go weeks without a kickdown.

I haven't been fearing for my life. I've been wearing a skirt and riding through rural Kentucky. I feel like I can do anything, you better not fuck with me. I've got a certain kind of self confidence to me that i have not ever had before. It might have something to do with before literally 2 inches away from death for hours a day. I'm living on the road with less than I ever had before. I don't need anything else.

When I talk to people it hits a need in me that surprises me. I'm clingy and detached at the same time. It's hard to relate to most people, in a certain way, no one is going on the exact same journey I am right now, it would be impossible to match the same steps, same places, have even a remotely similar experience. At the same time I feel closer to everyone I talk to, than what I ever have before. Falling in love, telepathic connects, yeah I'll see you later, have a good one, it was truly nice knowing you, seriously thank you for that experience.

I wake up most days just ecstatic that I am doing this. Bicycle touring is a practice in self reliance, self preservation, and I would also say a spiritual practice.