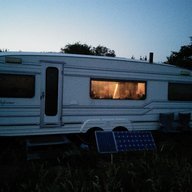 Joined

Oct 24, 2015
Messages

517
Reaction score

788
Location
many years ago, long before I had a kid in school and a full time job, the world was almost my oyster....

I've lived in vehicles for a long ol' time and where possible we used to escape the English winter by heading South to Spain and Portugal..

I think it was early 2005 and we had just rolled off the ferry and made it down to Barcelona to meet up with friends.. said friends Jak & Ketamine Kolin were parked up in Badalona in a squatted yard - the site was relatively new and had originally been taken to hold a big multi soundsystem New Year's Eve party.. we only intended to stay for a few nights and had barely been there an hour or two when an interesting rumour began to make the rounds :

apparently the yard that we were parked in was due for redevelopment and the presence of a big group of squatters had already slowed things right down - basically the building company wanted everyone off ASAP, but didn't want the hassle and potential long wait for a legal eviction - so a guy in a suit had just been down and offered 10,000 Euros cash if everyone would just fuck off !

there were about 40 different rigs there and an even split would mean 500 Euros per truck - not a bad offer, especially as the place was pretty grim anyway.. the main sticking point was that the suit would only hand the money over if every single vehicle pulled off at the same time... but to cut a long story short, the next day everyone fired up their vehicles and drove out of the yard and waited in a big long line... true to his word the company man climbed into the last one to leave and opened a briefcase with a big stack of money inside - and we all got paid...

the funny thing from our perspective is that we only moved about 100 metres - straight into another squatted yard literally opposite the first one, which we used as a base to explore the wider Barcelona area...

immediately after everyone had cleared out of the first yard a crack team of Spanish bricklayers arrived and began to secure the newly vacated yard - in about 3 hours flat they built a massive breeze block wall about 40 metres long by 4 or 5 metres high - they weren't risking anyone pulling on there anytime soon ! we watched their hard work from the factory roof opposite and in a haze of ketamine and alcohol all agreed that its not a bad life, this never working, always travelling permanent party thing that we do....

the end...