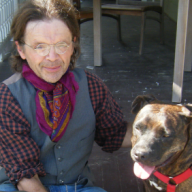 Joined

Sep 7, 2009
Messages

297
Location
HMMMMMM..............HOW TO START?...................been away from this site for some time. Interum consumed by raising kids, research,deaths of friends and family. The fine old wardog Cyrano in my posted pictures died in my arms of old age and the merciful needle, his friend Matilda,just as full of heart ;the same fate.They are buried side by side at the house I grew up in , the Peidmont area of Virginia.

The public face of politics in the RVA has taken some odd turns since last post.Houses such as the Wingnut Collective,etc. have dissolved/dissapeared/sanitized themselves / gone dark. Hope that the ideas they helped share have not died as well.

Me,the year of the plague has made me fearless. First week,I was classed essential (I make the tools that make PPE possible), so no rest for the old and wicked. BUT it allowed me to explore a world without most people flittering about.

So,anyone else alive and still angry?