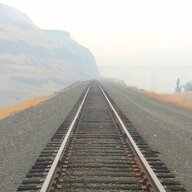 Burrito fund contributor
StP Supporter
Joined

Jan 2, 2009
Messages

1,006
Age

35
Now, I understand a lot of travelers/hobos/tramps/what-have-you favor the punk/folk-punk/metal/bluegrass/jam band genres ---and I like/play a majority of those styles too. However, lately I've been getting more interested in classical guitar music (and some flamenco as well).
Sure, I love to play rowdy songs about drinking, traveling, trains, etc....but as a busker - I'm always looking to expand my repertoire. Sometimes (depending on the locale or audience) playing classical or other "softer" styles will suit the mood better. I've come to learn some crazy new fingerings/chords from playing classical/jazz that you just won't find in the typical I, IV, V progressions of a lot of bluegrass/punk/etc.
So can anyone recommend me some classical/flamenco guitar pieces to learn?
This is the last one I learned:
And these are the 2 main ones I've been working on next by J.S. Bach and Andres Segovia: