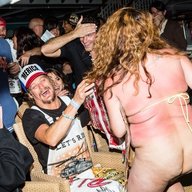 Joined

Oct 23, 2006
Messages

791
Current Location
Website
In my experiences w/ LP agents, they are a lot of the time (the good ones at least) blending in INSANELY well.
Do not typecast them , as they may have any look. I met an LP agent at the Florence SC Wal-Mart that had on camo pants, dirty Nascar shirt, gnarly ass beard and gimme cap. Looked like straight up pill-poppin redneck.

If they're good, you can't tell by their looks. What you will notice if LP is tailing is the fact that they're, well,tailing you. They're obligated to try to be w/in sight when they're following you, so simply browse the store and watch them keepin their distance but just in sight range, pretending to look for things but generally grabbing nothing, just flipping through CD's or manhandling produce. Not right behind you, and, you'll have circumnavigated the store and they'll still be there. If you've walked in 2 full circles and they're still behind u, chances are your fears are right.
Also, I concur w/ what a lot of people have said. many/most states laws/liability of store being sued under laws in said state,
prevent them from chasing or touching you. They CAN talk to you or say "STOP" in a firm voice. So waddayado if they do that?
Just keep walking. Run if you start being chased and there's no cops around. Think about it. You have little/nothing to lose. IF YOU DON'T KEEP WALKING, YOU HAVE A 100% CHANCE OF BEING POPPED. So many people i know could have been avoided being busted if they had NOT stopped and turned around when a manager said "hey come back here" or "what about those herbal extracts?". It's all voluntary. Think of all your friends that have self-incriminated after being arrested. Same concept. It's all mental.

Bottom line is, don't steal if you can't deal w/ the idea of having a misdemeanor conviction/warrant on your record. If you're under 18, GO FOR IT. Because offences commited before 18 are wiped off your adult record. Probation isnt that bad. I went thru a few years as a teen. Steal all u can, dear minors. The consequences are transitory. But if you intend to become a doctor or railroad CEO, yeah, you might want to stop at age 18. You'll make more money doing those things in the long run than being a whole foods miscreant.