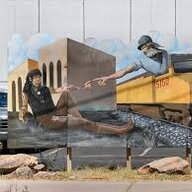 Mastering the Art of Houselessness
Joined

Dec 12, 2014
Messages

1,532
Age

31
Current Location
Website
Seeing the recent discord in this country, I just wanted to make a few things clear:

-I support women in every endeavor they embark on toward toppling the sexist establishment they have to deal with EVERY SINGLE DAY.

-LGBTQ+ individuals are HUMAN BEINGS and they deserve EVERY SINGLE RIGHT any other person in this country is entitled to.

-This country was based on the fact that EVERYONE is created equal. Race, religion, sexual preference/identity, or political stance does NOT mean you are any LESS American, or that you should feel intimidated by other American citizens.

This divisive BS needs to stop! I love all of you, please know this. I will support our *AMERICAN VALUES* until my death. The free world needs your support and unwavering will to stand up for what you believe in.

-Houselessness is NOT a crime. It is a product of capitalism. PERIOD.

We will overcome.