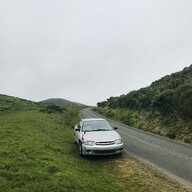 Joined

Jan 31, 2018
Messages

33
Age

21
Location
So we're stuck in Oklahoma.
Our Explorer is in the shitter and needs $800 worth of repairs plus the $700 we already put in that shit shoe. We keep the Explorer for sleeping space which is very helpful traveling with our two furry kiddos.
BUT winter is almost passed and we need to get the fuck out.
We are complete newbies. Yeah, we slept outside once on the sidewalk at that hotel but that was only for like an hour before we went inside, found a keycard at the unmanned front desk and ended the morning crawling into a truckers abandoned, paid-for luxury room.
Other than that we have no experience living the free life.
We were thinking.. SoCal?
I hear horrible things about California but it's warm and seems safer than two young girls walking all around New Mexico.
Have our friend drive and drop us there, find ways to make money and save for a cheap car? Not a solid plan.
How the fuck do you travel with two dogs? How do you make any money with two dogs at your hip? The rails are preferred but our dogs have no riding experiences so we're sticking to the road.
Hitchhiking is almost not an option with our dog Ponchito whom trusts no man around his mamas and WILL bite.
Seems like we're stuck on foot.
But where will we sleep? We can eat from dumpsters but what about when we can't?
We've never even been to California.
Should we just say fuck it and take the leap? Maybe meet up with some road dogs and travel via their car? I don't know.