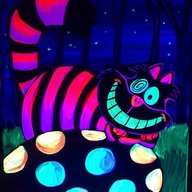 Sometimes traveler is traveling.
Staff member
Moderator
Joined

Jul 28, 2011
Messages

4,205
Age

61
Hometown
Yep Found it. Took a little research but I got it. Parked the car way down the road and walked - and probably did a couple miles on the tracks (hehe and then walked out of the opening of the place that had a mailbox and street access that was unused anymore, meh - so we entered from the backside). It was BI3 and me. Slid down from tracks down a 20' embankment, didn't realize that I tore backside of dress and treated everyone for the next many hours (including walking down highway) to brilliant yellow under wear. hehe.
We took pics of the mailbox and addy if anyone is interested. It was actually pretty cool. Talked with the security - we didn't have packs or anything and I had a big camera so I guess we looked legit
hehe this pic looks creepy looking ...
Did some climbing up some stuff - met up with some creepy locked doors that I think needed to stay locked.
Now why do I have poison ivy atm? hehe I travel very light and sneakers/boots were not on the menu.
Yeah that's a BI3 butt
It was a pretty cool place that could have been explored even more.
Oh and yer chair is waiting for you.
Last edited: