Edinburgh, the capital city of Scotland, has a population of about 500,000. It's a perennially popular tourist attraction, with visitors drawn by the city's dramatic architecture, its vibrant cultural life and fascinating history. The city is home to the famous Fringe Festival, loads of cool sights, renowned New Year's "Hogmanay" celebrations and it even served as inspiration for many of the settings in Harry Potter – so it certainly has a lot to offer travellers.
While it definitely has its issues (gentrification anyone?), I've lived here happily for several years now and have to say I'm inclined to agree with the friend of mine who says that "living in Edinburgh ruins the rest of the world for you". If you think about the
politics
of it though, it's fucked tbh – like other British cities it's beautiful because of the slave trade and wealth plundered from colonies. I've heard it described as a "doughnut city", where the class makeup of the city centre (bohemian/studenty/touristy) is very different from the outskirts (working class, deprived). "Trainspotting" was set in Leith, a mile or so from the city centre, and while it's still very working class there, it's not at all as rough as it once was.
During my time here I've become aware of various bits and pieces possibly of interest to vagabond travel punx and our ilk, so I figured I'd share some of that for the STP community to enjoy. This is based mostly on pre-pandemic info, so when (if?!) the world returns to "normal", be aware that some of this may be void/altered.
[Most of these photos are just stolen off google]​
Sightseeing
As I said, there's
tonnes
to see here. Rather than listing the many, many things worth seeing, I'd recommend you check out some of the standard guides like
The Official Guide to Edinburgh
and also use the ever-fantastic Atlas Obscura
114 Cool and Unusual Things to Do in Edinburgh
to find some more quirky spots that are well worth seeing – everything from macabre memorials like the Witch's Well to the network of tunnels that are under much of the city centre. While you're here it's worth asking for advice or a free map in the Tourist Office – found in the dead centre of town, opposite St. Giles Cathedral on the Royal Mile.
Punk in Edinburgh
While it could really do with some young blood (same as in most of Britain tbh!), the Edinburgh punk scene is pretty good, thanks to a handful of diligent promoters.
The main promoter is
Gibby
who puts on loads of gigs, including some pretty big ones.
House of Crust
isn't as active as it was but still puts on some good gigs.
Subversiv
is a monthly Punk night, although it's often fairly quiet to be honest.
Riot Witch Promotions
do cool folk punk gigs.
This is a good page for collating Punk/HC gig info, and you don't need a FB account to view it:
Some well-known Edinburgh punk bands include
Oi Polloi
,
the Exploited
,
the Rezillos
and
Threats
.
The highlight of Punk in Edinburgh/Scotland is the
Cramond Island of Punk festival
. This is a fuckin brilliant day-long event in August on Cramond, a tidal island which you can walk to/from at low tide. It's about a half hour on a bus from the city centre. It's the best day of the year and it sucked not having it in 2020.
Local ska favourites
Bombskare
usually do a fun Halloween show called Skaloween, which you could maybe tie in with seeing this neo-pagan spectacular, the
Samhuinn Fire Festival
which also usually takes place for Mayday/Beltane.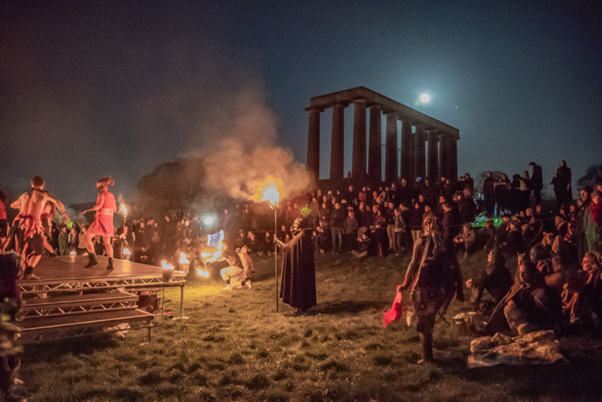 Scene from the Beltane Fire Festival
Not exactly Punk, but the
Balkanarama Balkan/Gyspsy music nights
are great fun and really wild sometimes!
There are a couple of Metal/Punk bars worth checking out:
The Banshee Labyrinth
– this place is class, it's on Niddry St. in the old tunnels under the city centre and has a fucking free cinema that shows horror films from 7pm to 3am! Good spot to chill out for free. Sometimes has gigs.
Bannerman's
– almost beside the Banshee, this is the main venue for punk gigs, but also has lots of metal/rock nights.
The Black Bull
– on Leith Street. Rock bar with a bit of a weird layout but they play some decent tunes.
Opium
– in the Cowgate, near Bannermans. Alternative bar/nightclub. Fun if you want to listen to Slayer or Dropkick Murphys or Slipknot at 2am. This place is right next door to where socialist revolutionary
James Connolly
was born (martyred in Ireland 12th May 1916). There's a plaque on the bridge wall commemorating him.
Anarchism & Politics
The Anarchist/radical scene isn't particularly big in Edinburgh, but there are still a few things of note.
The main one is the
Autonomous Centre of Edinburgh
(ACE). This is an Anarchist meeting space and library. It's not open all that often tbh, although before Covid some of us were trying to help with that by volunteering there more regularly.
There's a pretty cool radical café co-op called
Forest Café
that's worth checking out.
There's usually an Anarchist-feminist bookfair in June/July:
The Edinburgh Anarchist Feminist Bookfair is an all-day event open to everybody to learn more about anarchism and feminism
edinburghafb.org
Lighthouse books
on West Newington St. is a cool radical bookshop which is just beside the central University campus at George Square. They often have good talks there.
By way of groups worth checking out, here's a few currently active ones that I can think of off the top of my head:
There's usually a Mayday march, but it's nothing huge.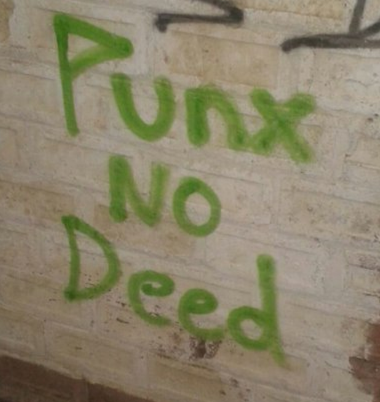 Stealth camping
For a city, Edinburgh has a huge amount of green spaces, many of them suitable for stealth camping. There are loads of parks and ancient, sprawling graveyards that you can easily camp in. There are parts of Holyrood park where you almost forget you're in a city as you stare up at the huge volcanic formations of
Arthur's seat
which allegedly has mythical King Arthur buried underneath it, waiting to return in Scotland's hour of need!). It still amazes me that we have such cool spaces in the middle of the city.
Warriston cemetery
is a cool spot – it's been turned into a nature reserve and is slowly being reclaimed by the earth – the official way in is on Warriston Gardens, but most people just climb over the wall on Goldenacre path or through the broken gate on Warriston road.
The
Hermitage of Braid
is not well known, probably as it's a bit of a trek from the city centre, but it's amazingly beautiful. It's a forest park in a glen with a stream through it – again, when here it really doesn't feel like you're in a city. Lots of it is pretty hilly (being in a glen) but you'll still find a camping spot easily. It's also a great place to hang a hammock!
There are no squats that I know of in Scotland – the laws on it are harsh, having been introduced originally to facilitate the brutal Highland Clearances which decimated the Gaelic-speaking population in the 1800s.
Food & Bin diving
You can eat for pretty cheap by shopping in budget supermarkets, particularly Aldi and Lidl, which tend to be quite a bit cheaper than Tesco or other chains.
There are plenty of vegan restaurants in Edinburgh, but I begrudge paying for food in restaurants so can't really comment on them. While not very vegan,
10 to 10 Delhi
and
Mosque Kitchen
, both on Nicolson St. near the university are good, cheap curry houses. The vegan sausage rolls sold by the ubiquitous chain
Greggs
are extremely popular.
The
SHRUB Co-op
is a zero-waste centre that usually has free bread. They also often run cool events.
There are a few decent options for bin diving in Edinburgh, although not really in the city centre where tourists are likely to be.
The main bins people dive are Waitrose and Marks and Spencer's in Morningside, both close together. Approach the Waitrose one from the Falcon Road West side so you can see if there are delivery vans unloading. It should go without saying, but be discrete and don't make a mess – lots of people depend on these.

There are also accessible bins behind many of the supermarkets further out from the city centre – behind The Food Warehouse in Edinburgh West Retail Park or behind Poundland in the Meadowbank Shopping Park (although the gate is sometimes closed here) and the Mark's and Spencer's on Telford Road.
The University
The University of Edinburgh, like many universities, offers the stealthy vagabond lots of resources. The main campus around George Square has lots of useful things – showers, microwaves, wifi and warm, dry places to recuperate. Pages
like this
will help.
Try to blend in – don't blow these spaces up for folks who need them.
The Teviot student's union building is a Hogwarts-style maze you can chill in and even has a small kitchenette just off the New Amphion room, although during the Fringe it becomes a venue. The Potterow building is another good open-access area. The basement/café area of 50 George Sq. is also a good pretty unsupervised spot. There's even a genuine
Viking Runestone
beside that building!
Free left luggage
The National Library of Scotland on George IV Bridge is a great resource. It's one of 5 copyright libraries that get a copy of every book published in the UK. You need to sign up to access the reading rooms (this is free), but can just walk in off the street and sit in the eating area and chill. There are also lockers in this area that are meant to be used while you are in the reading rooms, but you can easily stash your stuff there in the morning and come back in the evening before closing to pick it up. You need a £1 coin to use a locker but you get it back.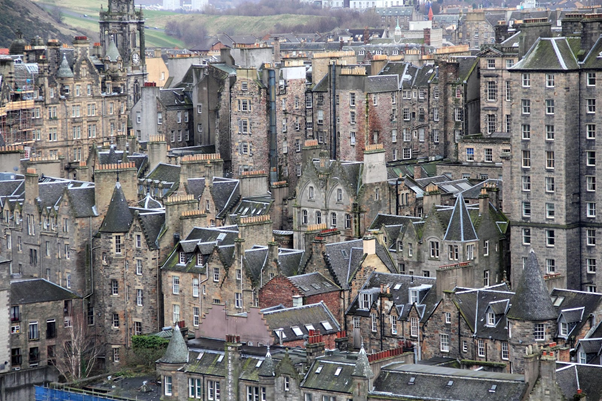 Edinburgh city centre
Free wifi
There are probably loads of other spaces where you can get free wifi but
Waverly train station
smack in the middle of the city is a useful one. There are also free toilets there.
The
National Library
and the
National Museum
also have free wifi, and I think the
National Gallery
does too – all these are great free places in the city centre.
There are public libraries around the city that are great to sit in and use the wifi and bathrooms.
Van Life/Rubber tramping
I don't know much about this but I quite often see people in converted vans parked on Ferry Road by the
Goldenacre
playing fields – it must be noisy from early morning traffic though. There are bins to dive in the Mark's and Spencer's petrol station shop on Telford Road, 5 minutes' drive away.
There's also a little community of vans/caravans/tiny homes on the beach front in Portobello, somewhere near the end of Kings Road – I can't remember where exactly but walk along the beach and you'll find it. I dunno if this official or do you need to pay or what, but it looks pretty ad-hoc to be honest. There are plenty of other quiet spots in that area where I think you could park. I've been told that there are good spots near the beach front around Seafield Road and that parking is free north of Albert St. and south of Oswald Road.
As with any city there'll be plenty of other options, it just might take a bit of driving around to find them.
The Fringe Festival
The
Edinburgh Fringe Festival
is a fucking huge, internationally renowned arts festival that takes place in August, at least when there isn't a plague to stop it. The population of the city doubles during this time and while there are a zillion great buskers about and shows to see (lots of them for free/donations), tbh when living here it gets a bit much. It's ridiculously busy and, be warned, many restaurants and other businesses increase their prices for the month of August, just to take advantage of you spendthrift travellers. If you come for the Fringe but would also like to actually see Edinburgh, I
highly
recommend that you are here a few days before/after it when things are quieter.
Here's a good video showing the good side of it all:
…And a scathing one from a local's point of view discussing the bullshit capitalist gentrification it brings:
While it annoys me, I do think the Fringe is gonna be something of interest to many StPers, and if you were just visiting rather than living here during it I can see how amazing it could be. I didn't actually see them but I heard
Holy Locust
were here one year recently and made a lot of money
busking
. The Fringe usually also coincides with some good punk gigs, including Cramond.
Note that if you plan on staying in a hostel (generally cheapish the rest of the year) during the fringe, you can pretty much forget it – they book out way in advance. I've even heard of flat leases that explicitly state that you have to move out during the month of August so parasite landlords can rent it out for absurd prices to tourists/performers.
Travel
To get to/from Edinburgh, the cheapest way is Citylink or Megabus. Note that these companies often share services, but that they can list different prices on their respective websites, so check both. Glasgow city is 1 hour 20 mins on the bus, £10 for a return ticket that lasts a month. You can get to/from London on the bus for about £20 – long trip, though! Citylink and Eurolines run buses from Edinburgh to Ireland, taking the ferry to Belfast.
You can travel around central Edinburgh easily on foot. There's also a good bus city service and a bike hire scheme if you're here for a while or are staying a bit outside town.
For hitching your best bet is to get a city bus to the edge of town and start from there.
Other cool stuff
You can't miss the massive castle perched on the rocky outcrop at the top of the Royal Mile and looking over the whole city. It's certainly an impressive sight – it honestly looks like fucking Minas Tirith, but at the end of the day was used to oppress ordinary folk and still houses a garrison of imperialist stormtroopers/soldiers. You can go through the main gates and look around a bit before they charge you to go in further. It's really expensive though and not worth it imo.
Portobello beach is a long, lovely sandy seashore that's under a half hour on the bus from the city centre. If you have a bike, there is a pretty flat cycle path from here heading east along the coast. Particularly nice areas include Yellowcraig, Gullane and North Berwick.
The Botanic Gardens are free and amazing, especially on a nice summer's day!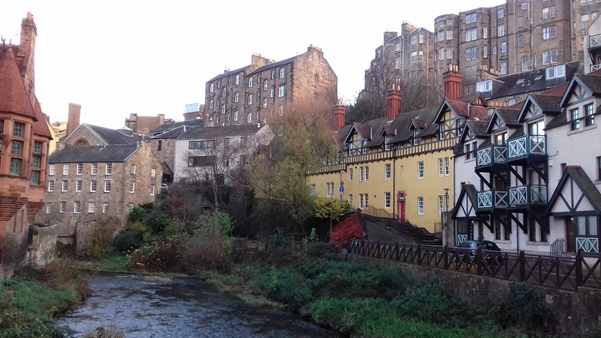 Dean Village
Dean Village is a beautiful old milling village from the middle ages that has been subsumed into the city centre, but still retains its medieval vibe. Walk along the Water of Leith to nearby Stockbridge to another nice area.
Leith croft
is a cool community farm project and bike repair station. There's also a community farm in Gorgie, pretty near a good skatepark (which is in Saughton gardens, a lovely park with a botanical area and medical plant garden).
The Forge
in Fountainbridge is a community workshop where you can use
tools
and make/repair stuff. The
Edinburgh tool library
is also open to "Tooligans"!
There's a cool student housing co-op which sometimes sublets rooms in the summer while students are gone away:
While it once was, Scottish Gaelic hasn't been spoken widely in Edinburgh for centuries, and
Scots
is the language of the native working class today. Nonetheless, there are some 3,000 speakers of Scottish Gaelic here, most of whom moved to Edinburgh from the Western Highlands and Islands. For those (like me!) that are into that sort of thing, see the flyer about Gaelic in Edinburgh here:
The University, in cooperation with groups across Edinburgh and with support from Bòrd na Gàidhlig, has produced a leaflet about Gaelic in Edinburgh.
www.ed.ac.uk
Rosslyn Chapel, famous from the Da Vinci Code, is about a 45-minute ride on a city bus from the centre of town (£4 return). It's like £9 to get into the chapel, but if you just go in to look around the visitor centre/café area with the pretence of going to the toilet you can easily sneak in. The beautiful Roslin Glen country park is a short walk away – good spot for camping.
The rest of Scotland is really worth exploring too, Glasgow is a cool city (much more working-class vibe) and some of the highlands are insanely beautiful. If you take the famed West Highland rail line (used to film much of the film scenes featuring the Hogwart's Express), get if from Glasgow rather than Edinburgh to save a lot of money. The
Cairngorms National Park
is amazing.
Conclusion
That's all I can think of for now! I've been planning to write this for ages since I read Matt's brilliant Anarchist's Guide to Travel. I hope this is of use to someone at some stage! Up the Punx! (A)
Last edited by a moderator: