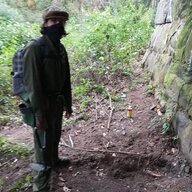 Joined

Oct 12, 2021
Messages

2
Reaction score

2
Age

29
Homebase
I've pawed through this site for a year or two whenever a roadblock has presented itself in my travels, or even just an interesting question has surfaced in my mind. I always found myself coming back here. Guess today I finally make my profile. After being homeless since 2016, I suppose I could take the next step and begin to engage on this site.

For the past few years I've always done this more or less by myself, save for those who have been kind enough to temporarily open their homes to me. Being from New England I've seen some pretty wild winters and some blustery bug-filled summers. Made it as far south as Dade City, FL and as far north as Laconia, NH. For the past two years I had my van to call home. It was small for my particular frame, but it was home. Unfortunately though, my van died. The world and I moved on.

Traveling with ASD has been interesting. The hardest part is socializing. To be perfectly honest I don't truly know what to do here. I'm great at hiding in plain sight, and I've successfully holed up in some difficult places. In the woods of Rhode Island is generally where I am, dug in like a deer tick. But I've never really felt like I belonged anywhere with anyone.

More than anything I could use advice, maybe even some people to show me the ropes. Never really tried meeting with people in my position. My life is more or less an open book, though this is the most talking about myself I've done in a while. If anyone is interested to know more feel free to ask. If someone has advice for me I'll always listen.