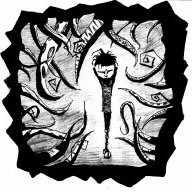 Joined

Nov 6, 2014
Messages

135
Location
so im a homebum from san jose, i want to get back on the road again, but i have obligations. but enough of that. anyways i had to leave my camp because of a big fucking sweep the city was doing. i decided to spend the week in frisco, because all the camps in san jose where being raided. i dont know why, i guess cause its summer. but im sitting here now bitter and pissed off about all that shit. Like leave the homeless alone for once god danm. My woman went off to her dads, (she wouldnt survive otherwise) we packed up our shit and i went off to frisco.

When i got there it was clear things whernt any better, probably worse. it all started with that fucking button. that god danmed button i spent every 15 minutes resewing back on my pants, the other 15 holding my pants up. i went down to haight and got some dental floss from some tweaker dude. i fixed my button, but it would be a consistent problem all week. i noticed that the park was nearly empty, barely any of the regulars in haight where there. some where off at gatherings, some had been driven off by the fuzz (more on that shit later) some had migrated out to the civic center or the tenderloin. whatever it was, the numbers where pretty small. There was also this stink of paranoia, like i could feel the nervousness of some people as i walked by. some shit had gone down. i knew it.

It wasnt any of my buisness and i didnt really care at the time, but i would learn to. so after wandering around looking for a place to camp. i settled for a spot tucked in the trees, and out of sight from anything. i tracked dogshit into my tent because i couldnt see the ground, so i had to scrape it off my boot and scrub down the tent with tp (even after i did that it still stank) and eventually i got comfortable enough to sleep in my bag.

I woke up at 3 in the morning to a fucking cop. he ordered me to get out of the tent and my boot zipper broke -_- he grumpily gave me a ticket, offhandedly told me to have some obscure homeless organization cover it, and then told me to get the fuck out. so i packed up my tent, and wandered around until i got on a random bus and rode it to nowhere.

the rest of the day sucked ass, this would be a repetitive theme. i spent my time scavenging and surviving like i always do. except in frisco i was always neck n neck with a bunch of other folks when it came to diving resources. i ended up near the city hall, running around lookin for a place to pee. i tried to take a piss at the front of a gate, but just as i pulled out some random corporate asshole pulled into the driveway behind me in his car, so i fucking bailed. eventually i peed in a dirty allyway next to some obscure club. then i went off again wandering around looking for a comfortable place to relax.

In the end i went back up to haight, hung there for a while. then i got on a bus and spent the night bus hopping to stay off the streets. see it wasnt the druggies and gangsters and thieves i was worried about, it was the cops, THEY WHERE EVERYWHERE! the fuzz patrolled streets every 20 or so minutes, pulling over to harass some crippled old crip who decided to pass out on the sidewalk, arresting some random dude for peeing in front of city hall, bitching at some hippy girl at haight because she lit incense at the park. they where handing out tickets like it was going out of style. i already had bad experience with cops, and i didnt want to wake up to another ticket, so i stayed on the muni system (MUNI FUCKING SUCKS) and when dawn broke i ended up near the beach in the middle of nowhere. i went out to the ocean, froze my ass off in the icy winds, then went and slept on some more buses.

Eventually i decided i would check out the main library in san francisco, because the big library in san jose was nice and quiet and was nice, why not check out this one? i was sure it would be a great place to charge my devices, so i waited 6 hours wandering the streets until it opened. i met some dude named tree, who was missing two bucks for a weed deal. eventually the library opened and when i got in, some asshole security guards told me to leave my baggage outside the library for "safety reasons" i wasnt about to leave my shit unguarded in the open just to use their shitty cramped library. so i said fuck it and went off to a better library.

i think it was 6 when i got back from sunset branch library, i hung around some hippies in haight, which had cooled down a bit. this guy told me all about greatful dead concerts. he also dropped 2 hits of acid.... and picked em back up again. no seriously him and a couple of other folks where scrambling around hippy hill looking for the acid they dropped. so i laughed and joked with them for a bit, then i headed off to catch the bus for the night. my button broke, so i sewed it back again.

late at night i went by carls junior near city hall. i bought some fries with my foodstamps, and sat back to rest for a while. some rude asshole was sizing up the cashier and demanding water and free food. he got the water but the ancient lookin security guard told him to get the fuck out. so he comes back with his crew, and some big fat gangster dude is like " come on! come on! we gonna go! right here right now!" and threatening the cashier. whos just so used to this shit, hes like whatever. anyways i sat around till i got bored, then i went back on the bus.

the next day things started to look up a bit. i was tired, filthy and sleep deprived, but i was getting more familiar with the city than i had ever bothered to before. i went to sunset branch, had some milk and cookies, looked up info on where to go to get rid of my ticket, hung out in buena vista park, to repair my boots and my clothing. it was generally quiet for me on that day.

After that resting day i went to the homeless coalition, a group specializing in helping hobos survive the legal world. i got some paperwork, and was told to go to this church in the heart of the tenderloin. i tucked my paperwork in a newspaper with my ticket, which flew out into the wind. so then i had to backtrack all the way through to where i may have dropped it. i passed some crazy old hag called me a cop because i was snoopin around looking for my paperwork n shit. in the end i found my paperwork tucked in the arms of a sleeping drunkard. i plucked it away from him, went and got shit done, and then went by this handout place.

It was this hole in the wall warehouse place run by college students, some of the girls working there gave me the look, i get that often, and usually from people i dont like. i dont like women my age, their stupid and impulsive once the see something they like. and frankly i didnt want to deal with it. so i took my cookies and got the fuck out. spent the night in the subway station, then waitn for the bus.

i watched this old guy slowly hobble across the street while i waited. he was moving so slow that the light turned green 4 times before he was even half way across the street in his crutches. i watched some crackhead hag wander off with an office rolling chair loaded with stuff. some crazy hobo was running around screaming incoherently and hitting things with a stick. He ran out into the middle of the road in front of a taxi cab rantin and raving. the cops drove by and didnt give a fuck as he wacked the side of the taxi with a stick. that taxi was fucking gone so fast.

anyways i got on a bus and ended up near the beach again -_- and the next day i got court paperwork done from my ticket and went off back to san jose.

here i am now, at 1 in the morning writing after all that shit happened. i want to start traveling again, summer here sucks and i kind of feel like id be having more fun out there on the road then here in the city.