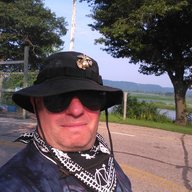 Joined

Jul 20, 2018
Messages

639
Location
Website
Okay, I hoped the videos weren't making any of you dizzy the way I was working the camera! It's crappy in my opinion, I'm not a pro!

I met two interesting people at Trainfest. I spotted a young lady with a full ALICE backpack and her boyfriend with a duffle bag on his back.

I started a conversation with them, they took the Highline Route from Seattle, WA and came here to Milwaukee because they heard of the Trainfest event. I bought them both a lunch and had an interesting conversation.They never heard of StP but they said they'll look into it.

Anyway, there was no railroad bull here this year. They had Operation Lifesaver booth.

I did talk to the people who run Trainfest about me setting up a hobo display for next year. They said that would be interesting and they want me to email them with my plans in mind!

Okay, here's the videos and hey, thumbs up or down or it's crappy, I don't care! Thanks!