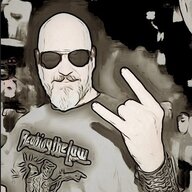 Joined

Nov 1, 2011
Messages

32
Age

50
So, here's my situation.

I'm very likely going to lose my job because I've missed too many days due to medical issues. Haven't been there long enough to get on FMLA. I've already been trying for several weeks to find another job with no luck at all, and it used to be damn easy for me to get one.

I was out of work for about a year and a half for the same medical issues before I got my current job. I thought I was going to be well enough to work. During that time off I was staying with a couple of friends who were kind enough to help, and while I was able to get on my own and transition into that with integrity and on good terms, it's understandable that it would be a bit much to expect the same generosity again.

So, the way things are looking, I'll probably end up on the road. The last time i was on the road was the mid-90's. I was a rainbow hippie kid in my 20's, hanging with friends, laughing, getting high, going to Rainbow Gatherings and having a great time. I was young and hot and carefree. Now I'm older, bald and stressed the fuck out.

Now I'm in my late 40's after trying for about 20 years to live the "normal" life working in cubicles and paying bills and it made me miserable and suicidal. The only time I was ever really happy was on the road. But, now things are a lot different. Society has changed a ton, with the economy gone to shit and more and more desperate people rolling people for their shit and being selfish. I'm not very physically strong and I've been softened by my time with all the comforts and conveniences of mainstream life. I've forgotten how to live on the road.

To be honest, I'm scared shitless.

I've been lurking these forums on and off for a few years as I keep thinking about hitting the road on purpose and then getting too scared to just jump and do it. Now I may be forced to. Hell, after the first few months, it may even be a relief.

What the fuck do you do when you're in your 40's, diabetic and with Meniere's Disease, and your medical shit makes you basically unemployable?

I may just have to face it and toughen up and deal. I could, but it would be a hell of a transition. I'm also worried that things are more rough now and from what I'm reading a lot more sketchy and more thieves and other fuckery that used to be a lot less.

So, any tips on how to adjust would be really helpful. I'm reading the forums and learning what I can, but I'm curious if anyone else here has had to go back to the road after a really long absence. I just feel angry, lost and scared, and I'm being open and just laying it out here in hopes of some good advice.