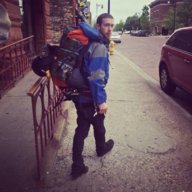 Joined

Sep 28, 2015
Messages

9
Current Location
I have a north face alteo 50L pack I picked up a couple years ago when I got big into hiking and back packing. It's really great, and big! But I could see the biggest downfall being the BRIGHT ORANGE.
The other pack is a maybe 25-30L assault pack. My buddy from the Marines gave it to me, and it has tons of places to hookup as many carribeaners as i would want really. It fits everything I have so far, I just don't know about anything extra I pickup along the way.
My buddy, an "experienced" train rider told me to go with the green pack, but any input helps. Thanks!