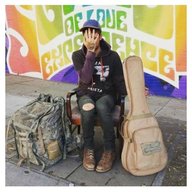 Joined

Mar 19, 2018
Messages

3
Current Location
about me
hey ya'll
looking to meet fellow buskers and hop some trains this FEBRUARY 2019
i do folk / blues / jug / hopeless music that is my therapy..
hear my rendintion of a Riley Pucket tune @
[email protected]
just an intermediate / beginner! been playing for a few years now.
i play a parlor sized resonator and travel light a possible
what do you play?
can you sing?
where are you currently?
i am in portland, if anyone also is stopping thru HMU i got a shower for yah.
instagram : johnny_therapy
Last edited: