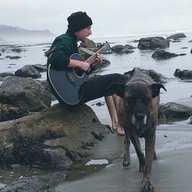 Joined

Jan 29, 2016
Messages

14
Reaction score

12
Hey everybody first let me just thank you for all the information ive already been able to get ahold of just as a lurker. this and the r/vagabond community on reddit have been awesome and i love both communities, so thanks again! now let me apologize beforehand for how friggin long this post is, i didnt mean for it to get like this haha.
but anyways, hi im jack
im lookin for some stories and advice from fellow travelers, specifically you trainhoppers, since ill be leaving in a few months to explore the country with my best homie since middle school. After getting out of highschool at 16 (took test similar to GED), ive worked the same shitty minimum wage bottom level jobs ever since. obviously, right? hard to get much else at 16. but unfortunately thats left me trapped.. its really all i qualify for, and since i really cant find anything im passionate about to keep me going through the incredibly frustrating moments of college (i tried a semester, thinking i would do something agriculture/ botany related and use it to grow medical marijuana), i just cant see myself investing all the energy and money that college takes, to get trapped that vicious cycle within a cycle within a cycle.
but its becoming apparent that more education is necessary to get past this minimum wage trap. it drives me crazy, feeling trapped and out of control of my life and the direction its headed. ive noticed throughout my entire life, though, in the small spurts of time where ive been in these kinda places, that i'm calmest and happiest far away from other people, in the mountains, in the trees, just out there with nature. it really just appeals to all my senses. i love the smell of trees and wild flowers and herbs, the feel of the cool earth and a nice breeze, the sound of the breeze stirring leaves and blades of grass and the birds singing above, the sight of the sunrays being scattered by the shadows of foliage and the dust and pollen you see vividly in those rays. i really just love every bit of it. and ive come to the realization that most of the things i dont like in this life almost always gotta do with the intervening and disturbance of someone else, and its something i have no control of but that seriously effects my life.
i realize and fully understand that life on the road is intervened and disturbed by NATURE, instead of MAN. from intense heat to intense cold, from blazing dusty dryness to bone-chilling relentless buckets of rain. but shit... that honestly sounds preferable to me than the monotony of this life ive foolishly let myself get caught up in. ive lived this life for a while with little to no success or even hints of success and im tired of being on the bottom. i know a lot of people are in this situation at 19, with no idea of what theyre gonna do with their life and being trapped in minimum wage jobs, but why does it have to be like that? i dont wanna go through my whole life accepting shitty situation after shitty situation just cause thats "whatcha gotta do."
no. fuck that. its time to go explore my adventurous side for a while and instead of living in these cement blocks we call apartments (and PAYING to do so) go live in the trees amongst the rest of the animals. cause in a sense thats all we are too, right? i feel like out there is where i could really find myself, free from rent and my job and medias pessimistic shadow, free from the expectations and routine were all supposed to follow, free from electronics and free from weed even. free from all those distractions. i cant wait for my mind to clear up, and the new ideas and thoughts that will come up and change my entire outlook on life. even though im not out there yet on the road, the feeling in my heart is undoubtedly telling me that this is what i need to do.
But im not an idiot and want to go about this as wisely as i can with as much pre-planning and even some hands on experience as possible so i can really minimize that learning curve and the possibility of getting hurt or killed and then harming the rep of the
train hopping
community and making it harder for others travelers in the area to hop safely. i truly feel like this is something i want to do for the long run, although i dont want to say that for fersure yet of course, not until im actually out there. Ive already gained what i feel to be an enormously helpful amount of knowledge from not only these forums but also r/vagabond on reddit. But some of my questions are a little more specific, and would be really nice to have some of em answered.
So for the first year of my travels im considering "training period" where i pretty much just stay in my homestate, california, since weather is the most mild and it really has pretty much every kind of scenery im lookin for (the coast of course but also theres MANY mountains and dense forests and lakes and rivers and deserts and rolling hills and flat stretches of farmland and more) so thats pretty much where my questions come in. any and all stories about your guys's experiences all through out California would be super appreciated. im hoppin out (not planning on catching a moving train our first time dont worry) from somewhere down south since thats where i live. Hows colton these days? havent been able to find any recent posts on the yard. was gonna simply head north outta there i think to roseville? if thats a no go then what are the best and worst yards in california in your experience? thanks in advance and sorry again for writing a friggin novel haha. happiest of travels to all of you
Last edited: