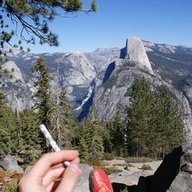 Joined

Apr 13, 2017
Messages

45
Current Location
Hi, I'm selling my 2008 Prius (Touring model, with upgraded suspension) @ 201,xxx miles. Averages 45 mpg. $4,000 obo.
EDIT: Adding a video
The car has NY plates. I'll be driving from CA to Yellowstone back to NYC in the next couple months. If you're interested in buying and on my route, let me know
I'm selling this car because I'm going to be traveling to the Middle East & Asia for a couple years. I'll be taking with me just my backpack and bicycle, so you'll be getting my car camp stove, socket wrench kit & other tools, solar panel, custom blackout/privacy window panels/curtains, tupperware, hangers--the whole shebang. It'll be ready for living-in the day of purchase!
I bought this car about a year ago, and I've been living out of it almost the entire time. I've taken it from NY down to GA and out to CA. I'm the third owner, and I have detailed records of maintenance.
Since I bought the car, I've just changed the oil, light bulbs, windshield wipers, and spark plugs. The car has given me no serious issues. It's road-ready to take you across the country many times over.
I scribed out custom window panels (painted black) that goes around all the windows for privacy at night. These panels work great! I've had pigs approach my car at night when I was inside. They shined their maglights and tried to peer in through the windows, but they couldn't see shit (I sat inside smiling while listening to them banter back-and-forth, talking shit; they were completely convinced that my car was abandoned). With these black window panels up, the car just looks like it has tinted windows from across the street at night.
I've never once been pulled over in this car; it's _super_ discreet! I park & sleep in residential neighborhoods all the time, and I'm never bothered unless I park somewhere that explicitly says "no overnight parking." I have long dreads, and I'm usually targeted by pigs when on foot. But when driving this prius past a cop car, I look as innocent as a middle-aged mom!
The car also comes with a 70-watt solar panel that's mounted inside the vehicle. The charge controller is wired to a switch for the blower motor, so that when the sun is up, the car's fan pulls-in fresh air in during the day. This is super important for keeping down the humidity caused by your body and drying clothes.
Because the Prius has a small engine and no trunk, you'd be surprised how big the "bed" is in the back. It comfortably sleeps 2 people, and the length of the bed is 79 inches (6' 7"), so there's plenty of length from head-to-toe for even taller folks >6 feet. The rear seats lie down flat & flush with the "trunk." There's just a void of a couple feet where your head goes. I fill that with some tupperware (where I store my food/clothes), topped with a pillow. It's super comfy, and I often think the Japanese _designed_ this car to be slept in by westerners (well, probably just for moving bookcases).
I know there's a lot of vanner rubber tranpers on here. You can't stand-up in a Prius, but 45 mpg is hard to beat. I spend more time at a picnic bench in a park, anyway. Lots of people have lived out of Prii; just checkout hotel prius
*
https://www.treehugger.com/tiny-houses/hotelprius-man-converts-prius-mobile-home-chris-sawey.html
Last edited: