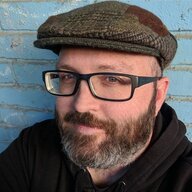 Permanent Wanderer
Staff member
Admin
Joined

Aug 4, 2006
Messages

9,959
Reaction score

23,353
Homebase
Website
On this week's episode of the podcast we're going to be interviewing Cornelius Vango, a queer, bus-dwelling, anarchist, philosopher, career-tramp, multi-media artist, DIY librarian, and purveyor of productive party chaos that makes video documentaries about their off-grid lifestyle.
We'll be talking about their past, learning how they got into underground travel, living in slab city, running the library there, living in a school bus, and sharing some stories about their recent explorations of Alaska, and answering your questions live on the stream!
***************
-- Show Notes --
Subscribe to Cornelius Vango's channel!
https://www.youtube.com/channel/UCh3SpI_QxJvaPb9S2IiU0JQ
Dirty Scouts Jamboree
:
https://squattheplanet.com/fest
Look here to find the best content on StP:
https://squattheplanet.com/featured
***************
Join the 1# online community for misfit travelers! It's free, and you can find more information about traveling for free or cheap, and network with other hitchhikers, hobos, and migrant punks of the traveler underground!
https://squattheplanet.com
***************
Buy some of our unique and interesting crap! Bandanas, stickers, patches, and more stuff for travelers of the nomadic underground:
https://www.etsy.com/shop/SquatThePlanet
***************
Get Social
Twitter ---
http://twitter.com/squattheplanet
Facebook ---
http://facebook.com/squattheglobe
Instagram ---
http://instagram.com/squattheplanet
Last edited: