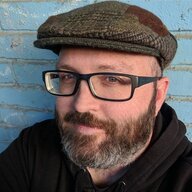 Permanent Wanderer
Staff member
Admin
Joined

Aug 4, 2006
Messages

9,959
Reaction score

23,353
Homebase
Website
In this second episode of the podcast, we interview Eng Jr Lupo, a former engineer for Union Pacific about his experiences working for the railroad and why he gave that up to ride the rails as a hobo.
This is the first episode of a weekly series discussing various topics related to underground travel and the community around the website Squat the Planet. Join us each week as we have a rotating cast of folks sharing their experiences in travel and answering your questions.
***************
-- Show Notes --
Here's two of the stories Eng Jr Lupo wrote that was discussed at length in the show; Lupo is a great writer and there's some awesome pictures to go along with them, so check it out:
https://squattheplanet.com/threads/...d-me-when-i-broke-my-leg-riding-trains.26079/
https://squattheplanet.com/threads/boxcar-party-six-hobos-and-a-hoghead.26122/
***************
Join the 1# online community for misfit travelers! It's free, and you can find more information about traveling for free or cheap, and network with other hitchhikers, hobos, and migrant punks of the traveler underground!
https://squattheplanet.com
***************
Buy some of our unique and interesting crap! Bandanas, stickers, patches, and more stuff for travelers of the nomadic underground:
https://www.etsy.com/shop/SquatThePlanet
***************
Get Social
Twitter ---
http://twitter.com/squattheplanet
Facebook ---
http://facebook.com/squattheglobe
Instagram ---
http://instagram.com/squattheplanet